When you hear the words "tan," "bronze," "golden," etc., the idea seems to conjure up visions of rest, relaxation, and a lifestyle. Whether your mind takes you to a tropical destination, lounging around the pool or on the beach with a clear view of the ocean, or sipping on one of the local cocktails, it just brings about a feeling of, dare we say, "health?"
What's interesting is that, even though we know sunbathing, and absorbing those ultraviolet rays, are not good for us, we still desire to be tan. If it's so harmful, why do we still continue to do it?
There is an element of confidence that tanning brings to one's overall appearance. Not only does it boost our self-esteem and enhances our mood but is has a "slimming effect" as well! If we eliminate the "harmful" aspect, and insert "healthy and instant" to the tanning process, then who wouldn't want that ALL THE TIME?!
I had the pleasure to speak with Michelle Lippa of Coco Loco Studio, at her studio in Forest Hill Maryland, as we discussed the art of sunless tanning.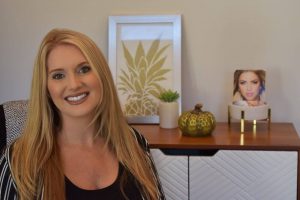 DLS: So glad we are able to meet! Tell everyone what you do.
ML: I provide year-round in-studio & mobile service UV-free spray tanning, as well as lash extensions. The spray tan is customized to your skin tone. Although I have regular clients, I host a lot of bridal and bachelorette parties.
DLS: What drew you to spray tanning?
ML: When I was younger, I worshipped tanning beds and I was going every day. It felt so good to get warm, have the color and it felt good on my skin. Being fair-skinned, I felt I had to go every day to maintain the tan. But I started realizing I was getting moles and dry patches, and how it was really damaging my skin. I thought there's got to be another option for me to be tan. I tried the Mystic Booth (think Friends – "I'm an 8!") and hated it. Then, in 2007, I tried spray tanning (hand held method) at the spa where I was working and fell in love with it.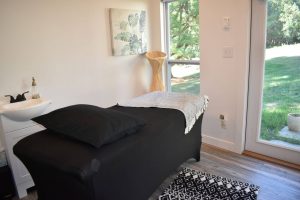 DLS: I know a lot of people would love to have this done, perhaps a little apprehensive and have no idea as to what to expect. Do you mind describing the tanning process?
ML: Sure, not at all! I always recommend before you get a spray tan, if you are getting waxing's, manicure or pedicure, or a facial, do it a couple days prior to your spray tan. The day before your tan, you want to shave and lightly exfoliate (nothing aggressive) your skin. The day of the service, I advise no lotion, deodorant or perfume and to wear dark loose-fitting clothes and flip flops. Depending on your comfort level, I advise wearing a bathing suit, or panties, or your birthday suit…think about the purpose of your tanning (for fun or for an event). We will have a consultation to determine color and time-period. If you need an immediate tan, such as an event that evening, I'll use the rapid tan solution instead of the regular solution. You will then step into the pop-up tent and start the service with a ph-balance spray, barrier cream on finger and toe nails (and any dry patches on the skin) and then I'll spray you. The entire process takes anywhere from 10 to 15 minutes. It will be a little bit tacky, I will remove the cream from your nails, you will dry and then you get dressed. I strongly suggest, in order for the tan to set, that you wait 12 to 16 hours before showering.
DLS: On average, how long does the spray tan last? Is there a difference in the longevity of the different solutions? What's the best advice to prolong the tan?
ML: For the rapid tan solution, I feel 5 to 7 days, and the regular solution is about 10 to 12 days. And the best thing to do after your spray tan is (remember this is 12 to 16 hours afterwards) to take a warm water rinse only for your first shower. Pat dry, then moisturize. Moisturizing is key to maintaining a spray tan. If not using a Norvell Moisturizer, use one that is natural, alcohol and fragrance free like Aveeno.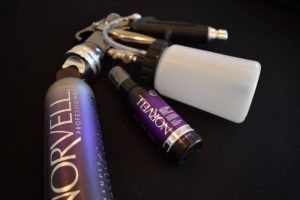 DLS: When researching spray tanning a "con" that appeared was modesty. Spray tanning is a very close, 1 on 1 interaction. That's why I wanted you to describe the process. I have to say, I truly didn't know what to expect and I found you to be incredibly professional.  I don't know how to articulate it, but it seemed like you analyzed the application as you progressed – you treat it like it's an art!
ML: I definitely think that's how I look at it! I've had so many clients that come in, and I can tell they are nervous. To me, it's like a canvas, and it's my job to paint it and I have to paint it perfect! One of the biggest compliments I get is, "Michelle, I was so nervous and you made me feel so comfortable!" To me, it's so heartfelt to make women feel comfortable in their own skin and to feel good about themselves when they leave. That's what I love about it!
To find out more about Michelle, her services and the Norvell after tanning products; her email address is: http://CocoLocoSunlesstanning@yahoo.com
Although her new website is currently under construction, make sure to follow Michelle on IG @cocolocobeauty